Photo by olia danilevich from Pexels
Creating eye-catching page titles is an essential skill for everyone involved with SEO.
In addition to being the first thing a user sees in the search results, title tags are one of the essential elements Google considers when determining the subject of a page's content.
Title tags hold alot of SEO potential and value that many people don't realise, and it's essential to get them right if you want your page to do well. Once you have these figured out, consider exploring new WordPress abilities to grow and rank your business better.
WHAT IS AN SEO TITLE IN WORDPRESS?
Before we go deeper into details, the easiest way to know or find a page's title is this; When you go on a page, right-click, then choose the view page source option. You will be able to see the title in the top section; it looks like this:
An SEO title in WordPress is the title that Google and other search engines show on the results page( SERPs). 
The SEO title can also be referred to as the title tag, which means the HTML aspect that specifies the title of a specific web page.
When you look up something in any search engine, you get a list of results in snippet form. Often the SEO is just a part of the whole process coupled with atleast a URL and a meta description.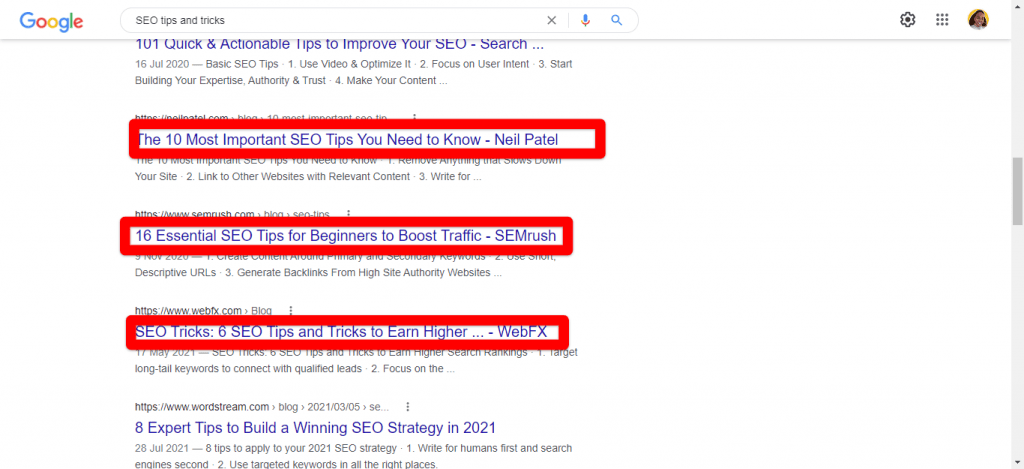 The first thing people see even before getting onto your website is the SEO title in many instances. Just to put it out there, the SEO is different from the main heading of the page. 
The main heading is what people will see when they click on the SEO title and get onto the website itself.
Google uses the SEO title to determine what your content is all about and whether to show your website in the search results or not. Even if you rank well but do not have a good title, you may not get the clicks you want.
Simply put, a page/post title is meant for the people who are already visiting your site, and the SEO title is meant for people who might want to visit your site.
The SEO title or tag is also shown at the top of the browser to make it easier for users with many open browser tabs. The purpose is to make it easy for them to navigate back to their website.
WHAT IS THE (SEO) PURPOSE OF A PAGE TITLE, AND WHY IT IS IMPORTANT?
Photo by Tai's Captures on Unsplash
The primary purpose of the SEO title is to make people click on it, visit your website and read posts or blogs about your products and services.
When your title isn't good or convincing enough, people will ignore your site and move on to the next one that resonates with their search interests.
An SEO title should help your rank for a keyword and make the user click through your page. 
THE SEO TITLE IS VITAL BECAUSE:
It helps Google and other search engines understand what your content is all about.
It helps you rank for a keyword or phrase.
It helps stimulate peoples interest and convinces them to click through to your website.
Formulating engaging titles and using prominent keyphrases in your SEO title can help improve your click-through rate. Google uses various metrics in deciding how relevant your site is for a specific keyword. To be more professional, you can use the services of a SaaS content marketing agency or one for your eCommerce brand.
You might be ranking well, but when you are not getting people to click on your results, your ranks will deteriorate with time. 
The opposite is true, you might be in a lower rank position, but when you get people to click through your results, Google will recognise that, and consequently, your rankings will improve.
Another thing to note, Google uses your specified page title as ranking input. So, do not focus only on the clicks; you have to ensure that your page title mirrors the topic discussed on your page and your specific keyword.
You should know that your page title influences your ranking position.
That's why it's crucial to optimise your SEO title; both to get people to click through to your site and improve your rankings in the search engines.
REASONS WHY GOOGLE WON'T ALWAYS USE YOUR PAGE TITLE
In Aug 2021, Google made an update on how they generate web page titles. This means that the search results will show a different title than what you set. 
However, this shouldn't be a cause for alarm. In most cases, the HTML title tag that your page outputs is still more likely to be the one that Google will use. 
Even in the face of an update, it's not new that Google has had a hand in deciding how your page title appears in search results. The new amendment is only to use the title, which won't change for different search queries. 
Instead, they will use different elements like(title tags, headings, primary texts on-page, internal links) on your page to decide on the title to be displayed in the search results. 
For now, these changes don't require you to do anything because, most likely, Google will use the page title you set, which will help you rank for a keyword. 
These changes will not impact your rankings. Just like before, Google will look at the title when deciding how your page ranks.
But, even with all these changes, you should keep an eye on how Google chooses to display titles of your most important pages. Monitor your Google Search Console, spot-check your search results, and keep an eye on any changes in the click-through rates of your key pages.
Any successful business requires the use of cutting-edge technological solutions. However, the pace of progress in the IT industry is so rapid that it is sometimes hard to keep up with the latest trends. It's important to know it consultant cost cause you may need it in the future.
For any problems or queries, you can let Google know in its feedback thread.
CONCLUSION
To achieve optimal results, you should craft your page titles well. Invest time in writing good SEO page titles because it's worth it. 
It doesn't hurt to go back and optimise some of your page titles even after publishing them, especially if you're ranking well, but you aren't getting very many click-throughs.