Google Chrome is the most popular web browser in the world, thanks to the company's commitment to web standards. When trying to access a webpage, many Google Chrome users have seen an error.
While the browser has grown increasingly bloated over time, it remains at the top of the heap.
The web page fails to load, and an error message with the code ERR EMPTY RESPONSE appears.
If you've been using Google Chrome for a while, you've probably run into some issues that you can't figure out how to fix. When you're surfing the web and the website you're attempting to reach isn't responding or providing data in answer to your request, you'll get the "ERR EMPTY RESPONSE" error.
We recognize how aggravating this scenario is.
When you're online and the webpage you're trying to view doesn't respond or doesn't send any data across, you can see this error. So, in this post, we'll walk you through how to solve Google Chrome's ERR EMPTY RESPONSE problem.
What Does It Mean by "Err_empty_response?
When using the Chrome browser to view a website, you may receive the err empty response (err empty response) message. It indicates that data is not being sent or transferred. Clear the cache, cookies, and temporary files in your browser. During surfing, more personal information is gathered, such as cookies, cache, stored passwords, and so on.
Extensions you've installed may be interfering with your ability to browse online pages. This data might cause your browser to slow down or possibly give you an 'ERR EMPTY RESPONSE' message, preventing you from visiting a webpage. On the other hand, it might signal that your browser data needs to be purged, that your network connection is down, or that some drivers are out of the current.
This is a list of some causes below.
There is an excessive amount of browser cache.
An issue with the network connection.
Temporary files that cause problems.
Running applications that may impact or damage the Google Chrome browser, such as defective extensions.
How to Fix the Err_empty_response
Now let's get down with our main event and learn about how you can fix the problems. Use the simple steps below.
Step 1: Clearing your browser history
There may be issues with the browsing data of your Google Chrome so you are having the ERR_EMPTY_RESPONSE error. Clearing your browsing history deletes the following: Web addresses you've visited are removed from the History page. Shortcuts to those pages are removed from the New Tab page. Address bar predictions for those websites are no longer shown.
If you sync a kind of data, such as history or passwords, removing it on your computer will remove it from all synced locations. It will be deleted from all of your other devices as well as your Google Account.
Open your browser on your machine.
Click More More in the upper right corner.
To clear browsing data, go to More tools and then Clear browsing data.
Select a time period, such as the previous hour or all time.
Choose which categories of information you wish to get rid of.
Clear the data by clicking the Clear button.
Chrome keeps you registered into your Google Account even if you erase cookies and have sync set on. Other devices and your Google Account will have their cookies erased.
Step 2: Have a check on your Network Connection
It's possible that you're getting the ERR EMPTY RESPONSE error because your network connection is down. To begin, double-check that your computer is connected to the Internet and that your network gear, such as your router and modem, is in good working condition. If you have a problem with your network connection, you should contact your Internet Service Provider or the manufacturer of your network gear for help.
Step 3: Updating your browser
This stage may be a little difficult for some individuals, but don't worry; we've illustrated the steps for you. Simply follow the steps.
But first, check to see if your Chrome is already up to date. To double-check it,
To begin, click the three vertical dots in your browser's top right-hand corner. Then select Help > About Google Chrome from the drop-down menu.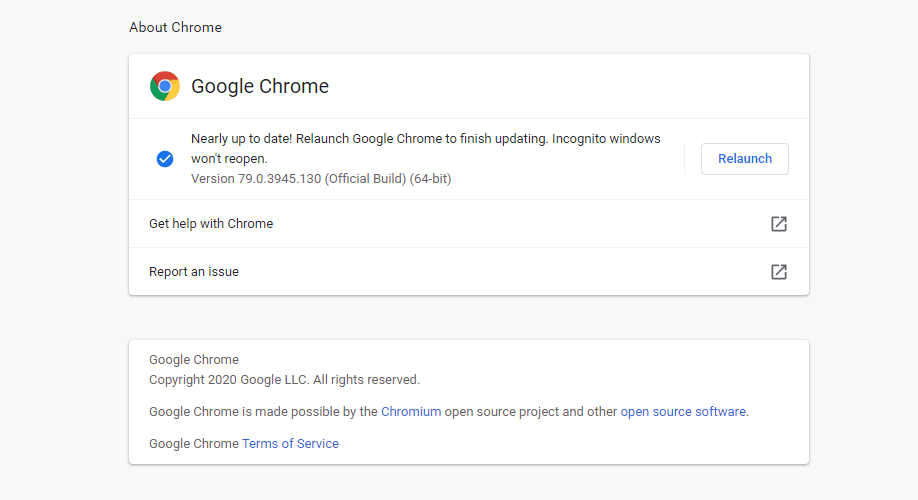 This choice will display and inform you of the current version you are using. Then, if there's a chance that your browser needs to be updated, it will do so. Don't use the browser directly after this upgrade. Restart your browser as directed in step one and try to access your selected website.
If the problem persists, move on to the next step. [Most likely, you won't have to]
Step 4: Using "Incognito Mood"
Actually, it is one of the most valuable hacks of all. All you have to do is press "CTRL+SHIFT+N," or just click the "three vertical dots" and click the "New Incognito Window" option.
Step 5: Try Resetting Network Settings
If there is something wrong with your network, then the ERR_EMPTY_RESPONSE error will appear, too. Therefore, you should reset network settings to fix the error. The detailed instructions are below:
1: Type cmd into the search box, then right-click the Command Prompt and select Run as administrator from the context menu. Click the OK button.
2: Type the following instructions one by one in the Command Prompt window, remembering to hit Enter after each one.
ipconfig /release
ipconfig /renew
ipconfig /flushdns
netsh winsock reset
net stop dhcp
net start dhcp
netsh winhttp reset proxy
reset network settings
Close the Command Prompt window and then reboot your computer. Restart Google Chrome to check if the error is gone.
FAQ
Can I repair Google Chrome?
A application or procedure that is presently executing on your computer may be interfering with Chrome. You might try restarting your computer to see if it solves the problem. Chrome may be uninstalled and reinstalled to resolve issues with your search engine, pop-ups, updates, or other issues that may have stopped Chrome from launching.
How do I know if Chrome is blocking antivirus?
If you're wondering how to see if your antivirus is blocking Chrome, the procedure is identical. Open your preferred antivirus program and look for an authorized list or exception list. You should include Google Chrome in that list as well. After that, double-check to see whether Google Chrome is still prohibited by your firewall.
Why can I not uninstall Google Chrome?
If you still can't remove Chrome, look for any Chrome processes running and terminate any that you discover. Simply right-click the first chrome process in the list and select End job. Repeat until all other Chrome processes have been terminated.
Did not send any data Err_empty_response?
It signifies that the website you're attempting to reach isn't responding to your queries or transmitting any data. Because of the Internet Connection, the error ERR EMPTY RESPONSE: The website didn't transmit any data and could be unavailable is worrying.
Closing Words
If you get the Err empty response when trying to load a web page in Google Chrome, one of the solutions suggested above should have fixed the problem. If you receive an Err empty response protocol error message, you may be unable to access your favorite websites. Using the tactics discussed in this article, this problem can be easily solved.
If the problem persists when you visit the same page, it's possible that the solution lies in one of these ways. Although you may be unfamiliar with the technology involved, one of these solutions should work for you if you simply follow the directions.