If you spend all of your time designing, building and maintaining websites – as we do at Pearl Lemon Web – you have to have a good understanding of website design statistics and what they mean to your work and your clients.
Because we are very serious about what we do we have made it our mission to gather as many of these important website design statistics as possible, and today we want to share some of the most important with you, to help inform your 2023 web design plans and strategies.
Amazing Website Basic Statistics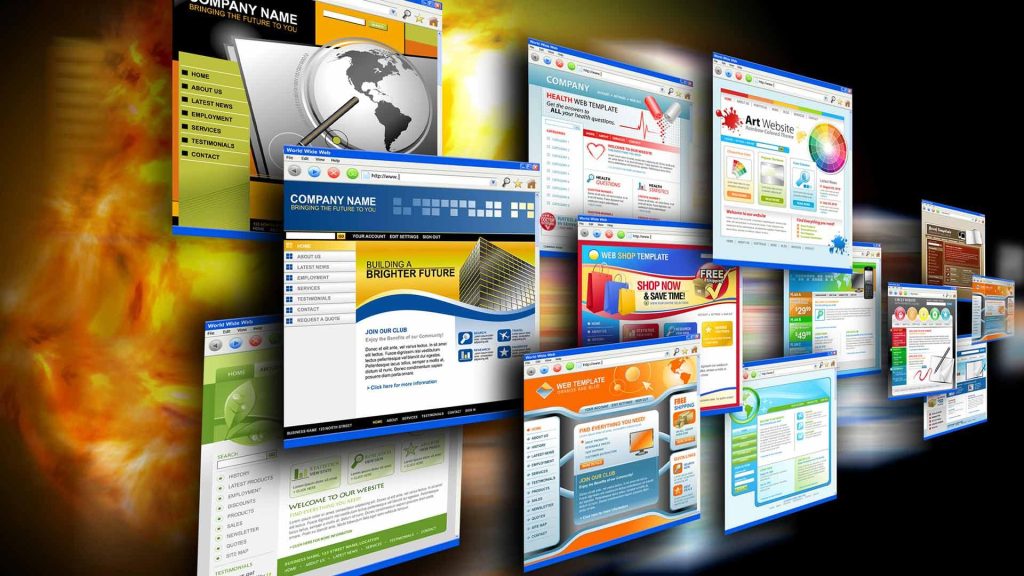 1. The percentage of people online worldwide is 59%.
That translates to 4.66 billion people constantly using the Internet to research information, find new solutions, and conveniently purchase what they want without having to set foot inside a store.
2. Mobile devices are used by 92.6% of Internet users to access the web.
Today, a company's success – at least as far as its web presence is concerned – depends heavily on responsive website design because so many people access websites from smartphones.
3. The average daily time spent online is 6 hours and 54 minutes. PER DAY
And of that time, 3 hours and 39 minutes are spent on a mobile device. Despite spending so much time online, people have to make difficult decisions about where to spend their time.
4. The number of websites on the Internet exceeds 1.9 billion.
Internet consumers are increasingly reliant on search engines and other platforms like social media to help them locate the best of the best due to the almost 2 billion websites available online. But they're not only searching for a tech platform's approval. They'll ultimately decide for themselves depending on the quality of the websites which ones are worthwhile viewing.
5. Compared to other sources, 73% of customers trust the information on a company's website.
Even though customers will look for brand evaluations on Google and social proof on websites like Facebook or Twitter, they don't place the same amount of trust in these sources as they do in websites for specific companies. Therefore, it is crucial that web designers build great websites and maintain them so that they can provide users with information they can trust.
WordPress Website Statistics
6. WordPress is used to create 43.25 percent of all websites.
WordPress is the content management system used by 65.2% of all websites that make use of a CMS. Regardless of your perspective, WordPress is the most widely used platform for creating and maintaining websites in 2022 and as this has been the case for years, WordPress is likely to win out in 2023 too.
7. WordPress is used to power 36.28% of the top 1 million websites.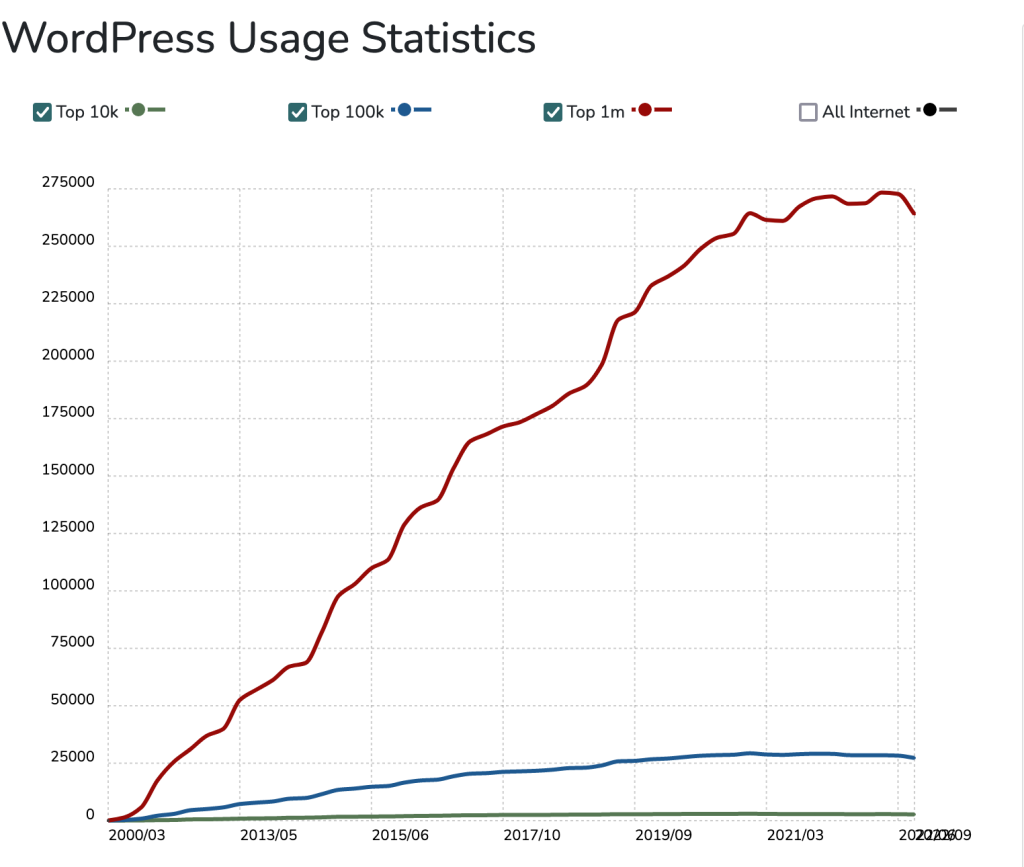 Almost a third of the top corporations in the world use WordPress as the foundation for their websites. But small businesses and individuals also trust this content management system with their internet business' success. It's also the CMS that local businesses use the most frequently, according to BrightLocal.
8. WooCommerce and Elementor are the two most popular WordPress plugins, respectively.
There are tens of thousands of plugins available for usage in the WordPress repository. But some plugins are more popular than others among WordPress users. The most widely used plugin is WooCommerce, an easy-to-use e-commerce suite of plugins installed on 20.4% of WordPress websites. With 15.9% of users utilizing it to develop their websites, Elementor, a WP design framework, isn't too far behind.
9. In 2022, a website with basic functionality and 3-5 pages will cost, on average, $3200. A wide range of prices are actually charged by web designers for the typical business website:
Designers charge between $1000 and $1500 in 35.1% of cases.
Between $2000 and $2500 is charged 24.3% of the time
16.21% charge a basic fee of $3000
10.81% charge a fee of $4000
13.51% charge fees of between $5000 and $6,000
10. In 2022, a professional website will typically take 2 months to complete.
This estimate seems reasonable given that the majority of web designers who participated in the mentioned poll utilize professional design software and take SEO into consideration. However, there might be more effective approaches to creating a website of the highest caliber. Everything depends on your methodology, your toolbox, and the sophistication of the client's request.
11. According to 88.5% of web designers, a website's sluggish loading speed is the main factor in people leaving the site.
Other explanations they provided for website abandonment included:
Web design that is not responsive (73.1%
Navigation that is badly designed (61.5%)
Design flaws (38.5%)
Unorganized or hard-to-find content (34.6%)
12. 42% of consumers claim they will leave a website if it runs slowly.
All of the explanations for website desertion provided in the GoodFirms survey seem to indicate that web designers have a solid understanding of their target audience, but especially that understanding of the importance of website speed.
13. 50% of consumers think that website design should be a top priority for brands.
According to survey respondents, a brand's overall website success depends a lot on its overall website design. They frequently concentrate on the following factors:
Images and photographs (40%)
Colours (39%)
Page design (38%).
Links to other web pages on the site (38%)
Videos (21%)
Fonts (18%)
14. Blue and green are the colours that customers prefer to see in web design.
The colour blue is frequently associated with trust and consistency. Green is frequently connected to nature and progress. It is hardly surprising that these uplifting hues appeal to consumers.
15. Websites are used in marketing tactics by 80% of business people.
After social media, a website is the second most effective marketing channel. You may understand why when you consider the indicators marketers use to gauge their success:
Sales (62%)
Web traffic (53%).
Lead generation (40%).
Engagement on-site (40%).
SEO improvements (32%).
If the majority of the key performance measures are based on how well the site operates, it is evident how important a website is to marketing.
16. In 2022, 23% of small retailers do not have a website.
Given what transpired during the pandemic, it's remarkable that so many retail businesses still haven't switched to a digital home. The paper cites a number of explanations, including:
33% would rather utilize social media in its place
32% of people don't think they need a website.
29% claim that the majority of their customers are not online.
26% believe they lack sufficient personnel to maintain one.
26% don't believe they have sufficient funds to build one.
24% of people claim they are unable to build or manage one on their own, while 21% believe websites are a waste of time.
With this knowledge in hand, when pitching their services, web designers can proactively address these concerns and any misunderstandings with potential clients.
Mobile Web Design Statistics
17. A smartphone is owned by 85% of Americans.
Younger customers are far more likely to own a smartphone, with 96% of those between the ages of 18 and 29 and 95% of those between the ages of 30 and 49.
Only 61% of those aged 65 and up currently own a smartphone, which is still a low adoption rate.
This year, responsive design will be a top priority, but designers must be careful not to narrow their attention to the mobile experience too much to avoid alienating desktop users.
18. When Americans are awake, they check their phones on average every 5.5 minutes.
Crazy right? But that's not all!
The average amount of time spent on a phone before bed is 50 minutes, and 80% of people check their phones within 10 minutes of waking up.
Given the prevalence of self-described smartphone addictions, online designers should consider ethical design principles moving forward while creating websites.
19. Mobile apps account for 88% of all smartphone usage time.
Americans use their phones for an average of 4 hours, and 5 minutes every day, according to eMarketer. Mobile apps are used for 3 hours and 41 minutes, while webpages are used for 24 minutes.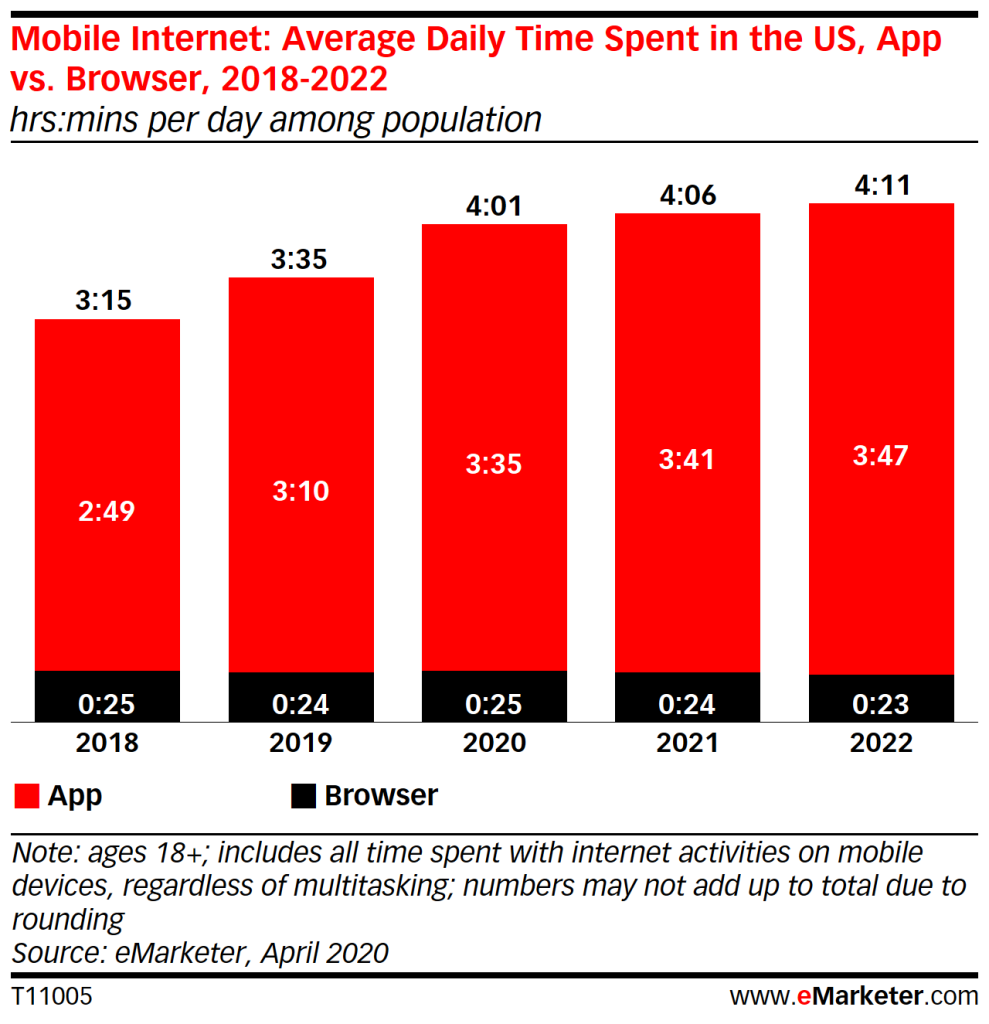 Building an app won't make sense for certain businesses. To deliver a more pleasurable mobile browsing experience, web designers should begin considering ways to provide website attributes seen in apps.
20. In Q1 2021, mobile devices accounted for 54.8% of all website traffic worldwide.
If they haven't already, web designers must prioritize responsive design because smartphones will continue to dominate website traffic. Additionally, they should closely monitor each website's metrics to make sure their sites are in line with this general trend. Websites that fall short may need mobile adjustments to stay competitive.
21. Mobile clients account for 31% of all retail commerce sales in the United States.
That translates to revenues of around $338 billion USD. We may anticipate a rise in mobile web sales as mobile visits to websites increase.
E-commerce Website Statistics
22. Online purchasing is undertaken by 22.6 million people every minute.
The work is even more challenging for web designers when building and maintaining sites with an emphasis on e-commerce. They need to keep their online storefronts updated in reaction to shopping trends, holidays, customer demand, and more in order to stay in touch with shoppers' wants and needs and get them to click that buy button.
23. According to experts, global e-commerce firms will create $5.4 trillion in revenue by the end of 2022.
If you haven't already, now is the time to get involved in e-commerce with a stable year-over-year rise in e-retail sales. The same is true for web designers and business owners.
24. 46% of shoppers say they prefer going to a store in person to shopping online.
Many consumers still prefer the in-person experience to the digital one, despite the expansion of e-commerce. 33% of respondents said they do it so they can touch and feel items, while 26% say they just like the experience.
25. Before making a purchase, 59% of customers undertake online research.
Despite the fact that many customers prefer to purchase in person, the internet nevertheless has a significant impact on how they shop.
Websites must provide tools to aid consumers in product research and comparison for a variety of reasons, including those mentioned above. Even if customers decide not to make their purchase online, the website will provide them with the knowledge and resources they need to make a more informed choice in-store.
26. 65% of customers are more likely to interact with a retailer online if they have a positive in-store experience.
The good news is that shoppers frequently connect with retailers online as a result of favourable in-store experiences (and through their websites). Web designers will therefore probably need to devote more work to omnichannel customer experience elements in 2023 (such as buying online, and picking up in-store).
27. In Q3 of 2021, 69.25% of e-commerce sessions were conducted on mobile.
Desktop users accounted for just over a quarter (27.75%) of all global e-commerce sales. Unfortunately, this favorability of mobile for purchases still isn't evident.
2.1% of shoppers on mobile devices converted, compared to 3.85% of shoppers on desktops. The average order value (AOV) shows a similar discrepancy, with mobile customers spending $118.65 on average vs $162.88 for desktop customers.
This may indicate to web designers that mobile shopping needs to be enhanced. Alternatively, it can entail concentrating on providing mobile sites with purchasing capabilities pertinent to the stages of the sales funnel that occur there (like research and product comparison).
28. A personalized purchasing experience is desired by 87% of consumers.
Their experience is improved by more than just individualized product recommendations, according to Kibo Commerce. According to 31% of retailers, personalizing search on their websites increased ROI by at least 200%.
29. 49% of consumers attribute their cart abandonment at the register to 'surprise' significant additional costs.
It's never a good business practice to come up with unexpected shipping, tax, and other fees for customers at checkout. Your website design should ensure that customers know just what they will be charged in advance. But when they get to the final stage, some customers abandon a purchase for other reasons as well.
When a website required people to register, 24% of users abandoned it.
18% of customers wouldn't complete a checkout that was too hard or lengthy.
17% of users feared giving the website their credit card information.
12% of users reported a crash or issue on the website.
Poor checkout design and functionality will decrease your conversion rate, just as poor performance is the main cause of website abandonment.
Websites and Customer Loyalty Statistics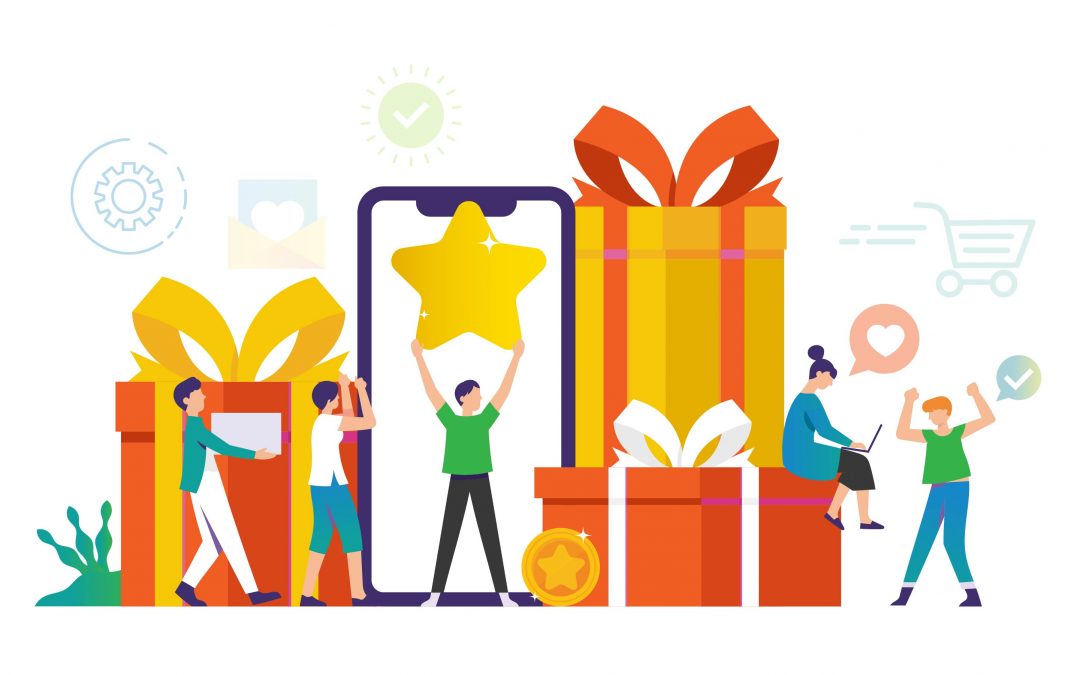 30. Only 8% of consumers say that businesses offer a superior customer experience, despite 80% of brands believing they do.
There is a big perception difference there. Web designers can help enhance how customer service is handled through the features on the website, even though they aren't responsible for creating customer service policies within businesses (like live chat or contact forms).
31. According to 68% of consumers, it is harder than ever for firms to maintain their customers' loyalty.
Numerous factors have contributed to consumers' increased pickiness. The more devoted customers a business has, the more money they stand to make, thus as a web designer, you must pay particular attention to this. Learn what makes users tick so you can create a website that increases rather than decreases user loyalty.
32. 48% of consumers now buy things they would normally purchase in a physical store from internet retailers.
Keep this web design statistic in mind when creating a website for a business entering a market dominated by physical merchants. If they provide the right product, in the right location, and at the right price, new firms have a chance to swoop in and claim that devotion as loyalty is eroding, even for long-standing brand favourites (among other factors).
Statistics for Search Engine Optimization (SEO)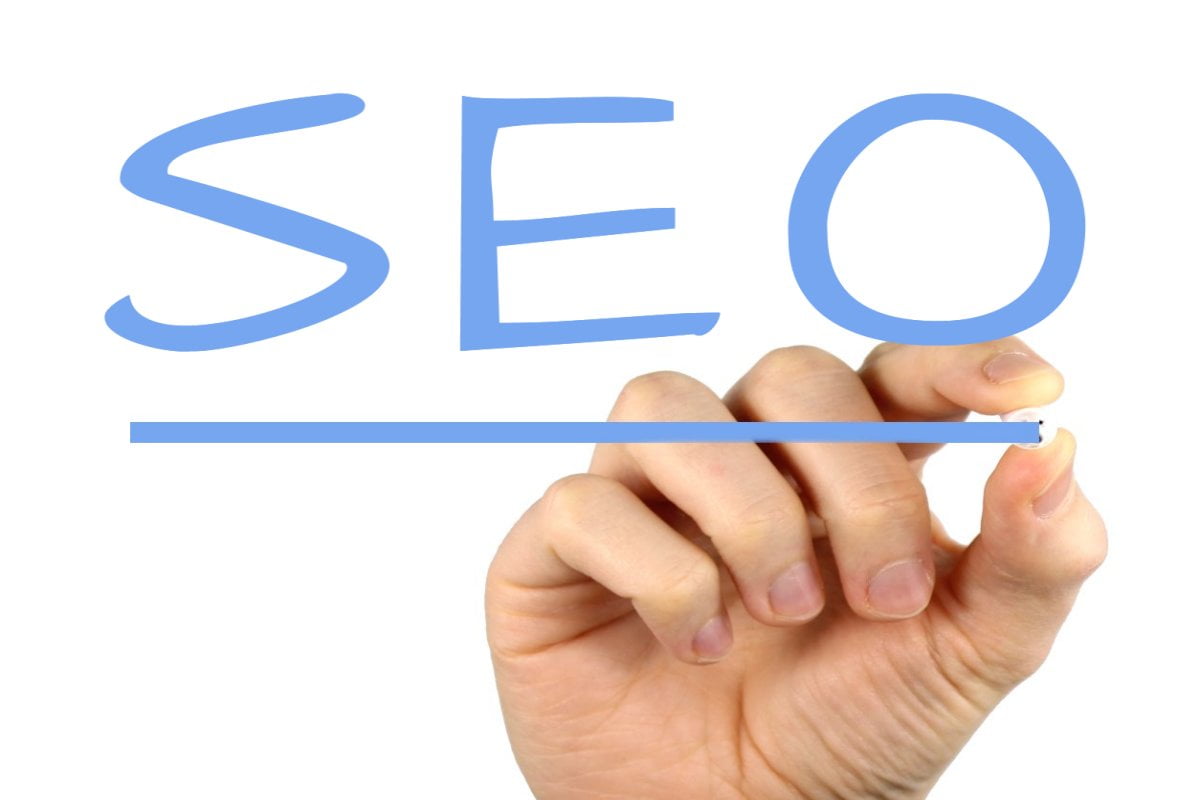 33. Every minute, 5,700,000 searches are made on Google.
Although it may seem like a lot of searches, there is a lot of competition (1.9 billion competitors, to be exact). Web designers must grasp SEO in order to create websites that "beat" Google's algorithm and appear on the much sought-after first search engine results page (SERP).
34. Google controls 86.64% of the market for search engines.
The most popular search engine worldwide is Google. Designers must follow Google's guidelines if they want to create a website that ranks effectively.
35. 36.7% of SEO experts think that Core Web Vitals will overtake other factors as the most crucial part of an SEO plan.
One of the most recent changes to Google's search algorithm is Core Web Vitals. Based on four major criteria—SEO, performance (speed), accessibility, and best (design) practices—it assesses and rates a website. A web designer who is proficient in these technical SEO techniques can help their websites rank very high in the SERPs.
Statistics on Website Privacy and Security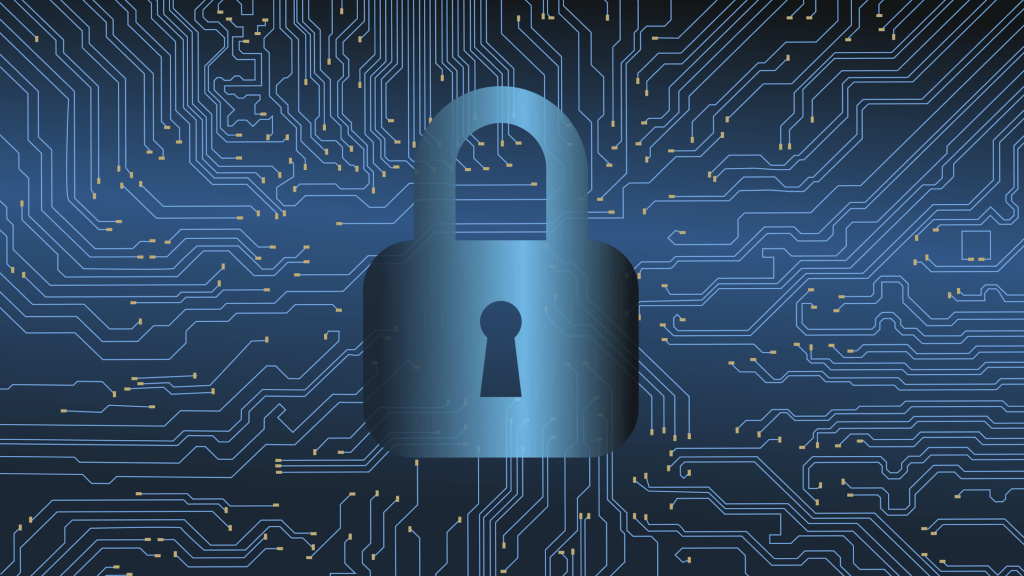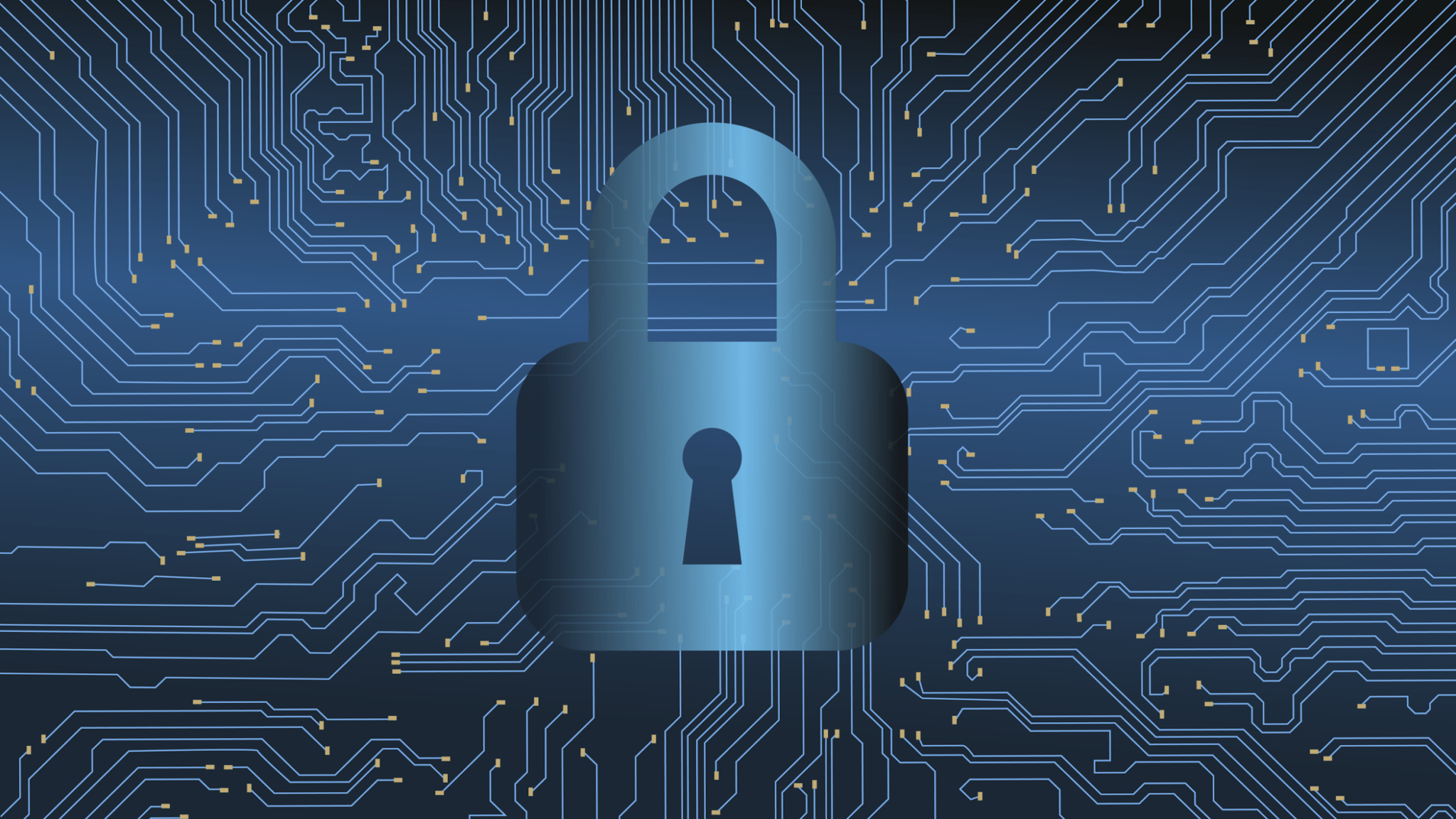 36. In the first half of 2021, there were over 86 billion password assaults on WordPress websites.
For the simple reason that WordPress is the most widely used CMS and because its vulnerabilities are well known, WordPress websites frequently become a top target for hackers. Particularly as many use poor login methods and weak passwords.
Attacks significantly increased in 2022, according to Wordfence. In addition to detecting 86 billion password assault requests, the firewall plugin also stopped 8,227,887,615 brute force attempts in January alone.
37. 33.1% of Internet users are worried about their personal information being used inappropriately.
WordPress users aren't the only ones at risk online. More than a third of Internet users are concerned about how their personal information might be used. Through the use of recognizable partner integrations (such as PayPal for payments) and security trustmarks, a website can allay these worries.
38. Ad filters are used by 42.7% of people.
There are various explanations for why so many individuals now install ad blockers in their browsers:
Too many advertisements (22.3%)
Too many ads are bothersome or pointless (22.3%
Ads bother them (19.9%)
Too much room is taken up by ads (16.7%).
Page load times are slowed by ads (14.6%)
They could jeopardize their right to privacy (11.2%)
The poor online advertising experience seems to be what worries consumers the most, on the whole. Knowing this, website designers should look at different methods of revenue generation.
Website Speed Statistics
39. Over 5 seconds are required to load 85% of websites.
Google may advise that websites load in five seconds or less, but studies have shown that the actual benchmark they prefer is closer to three seconds. With so many slow landing pages on the internet, a website that is performance-optimized in 2023 may become a significant standout in its niche.
40. If the page loads slowly (more than three seconds), almost 50% of users will reload the page.
The fact that users are more likely to blame a poor Internet connection than the website itself for this is one of the factors contributing to it. However, 22% of users will close the tab and 14% will visit a rival website if the refresh doesn't make things better.
41. 70% of customers claim that poor loading times make them less likely to make a purchase from a business.
Customers already have a number of complaints about the e-commerce checkout process. Designers must put performance first if they want to increase sales because the great majority of users complain about poor loading times.
42. If using fewer media results in quicker loading times for customers, more than 50% of consumers would prefer it.
Consumers were asked what they would be willing to give up in exchange for a website that loaded more quickly, and they responded as follows:
56.6% of people would forsake animations.
52.8% would be content to stop watching videos.
24.1% would delete images.
Even while some visitors could be content with fewer images, it seems that they value images more than animations and videos. When deciding which medium to use in your design, keep this in mind.
Need help with website design now that these website design statistics have helped you understand how important good website design is for 2023? Contact us today, we'll be happy to help.